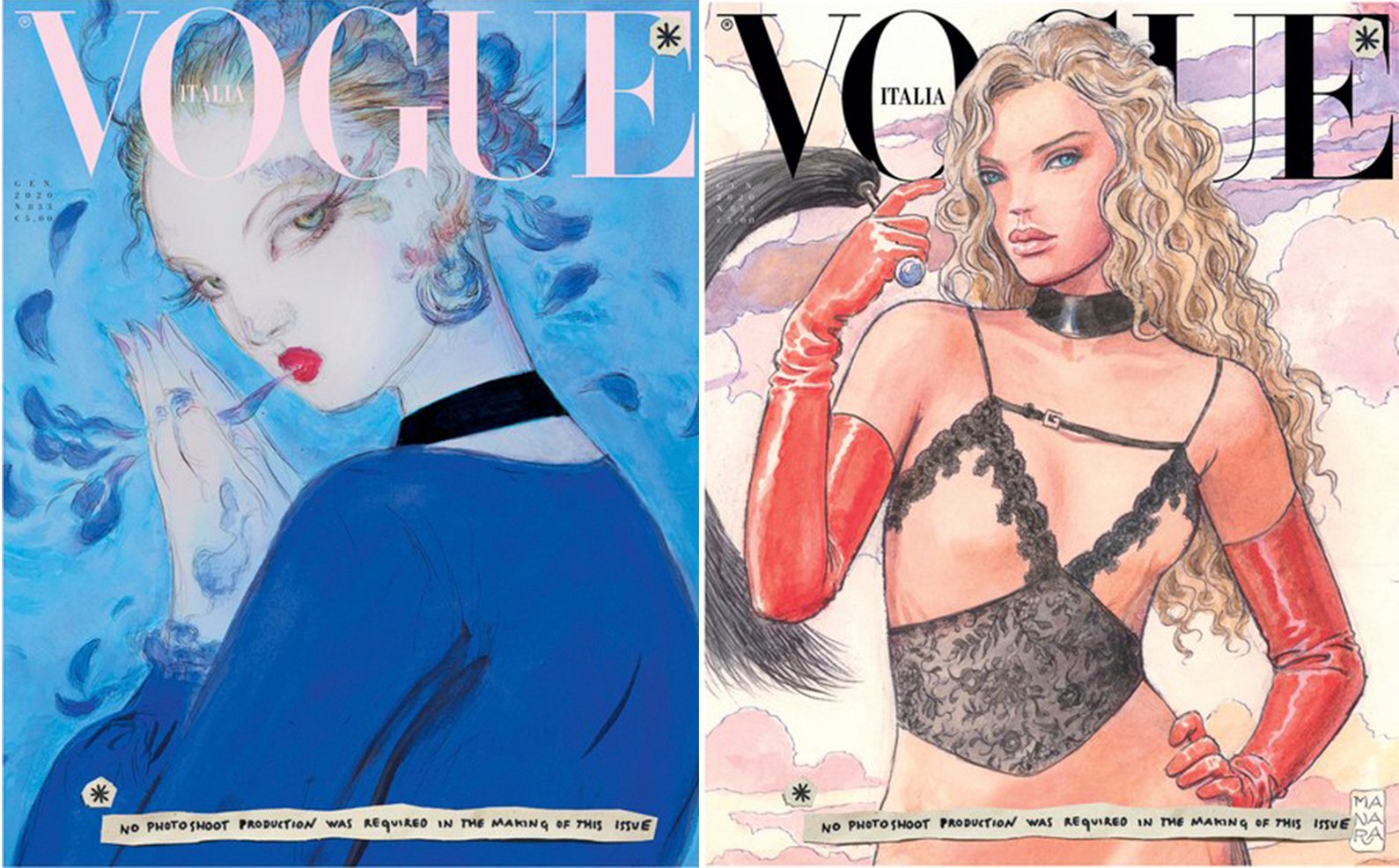 Vogue Italia Jan 2020
At the end of last year, Vogue published the Vogue Values which set out a mission statement for 2020 and beyond. This month, we are seeing the first tangible action to come directly from these values - Vogue Italia's January 2020 issue will be published without any photographs. Instead, it will be published with seven different illustrated covers.
The justification for this move is an environmental one, a follow-through of Vogue's declaration to "preserve our PLANET for future generations" and to stand for "RESPONSIBILITY and RESPECT for…our natural environment."
As Vogue Italia's editor, Emanuele Farneti, explains in his statement, the effort that went into the most recent September issue (traditionally the largest issue each year) includes "One hundred and fifty people involved. About twenty flights and a dozen or so train journeys. Forty cars on standby. Sixty international deliveries. Lights switched on for at least ten hours non-stop, partly powered by gasoline-fueled generators. Food waste from the catering services. Plastic to wrap the garments. Electricity to recharge phones, cameras…" It is unclear how much effort would have gone into a January issue, but Vogue has donated the money saved to the Fondazione Querini Stampalia in Venice, which was severely damaged during the recent flooding in that city.
Sustainability writ large has been one of the most powerful cultural movements in recent memory. It has manifested in a number of ways, across a wide spectrum of activism. Throughout these sub-movements are the underlying themes of waste reduction and the paring back of large-scale industries in service of human consumerism. Fashion, and luxury goods in particular, have oftentimes felt like the antithesis of this philosophy, as brands trade on the currency of materialism and covetousness. At the same time, brands are now more than ever expected to do, not just say - in the words of former BBH Chairman Jim Carroll, "In the age of transparency, brands need to be prepared to recognise their flaws and failings... This entails being positive and proactive."
In this context, Vogue Italia's photo-free issue is admirable for its tangibility, which is two-fold: on the one hand, it is reducing its own production footprint; at the same time, the cost savings are being passed over to redress damage caused, at least partly, by climate change. It is certainly less likely to face backlash than some of Vogue's past run-ins with topics like gender fluidity, body positivity and diversity. It's a concrete action that is credible, in a space where they have the right not only to play but to lead, and it acknowledges (and seeks to redress) their own shortcomings.
While the idea of a photo-free fashion glossy feels so radical in 2020, let's not forget that fashion magazines pre-date the invention of photography. Vogue Italia this month is, in a sense, a throwback to the earliest fashion magazines which relied solely on fashion illustration to convey a necessarily visual industry.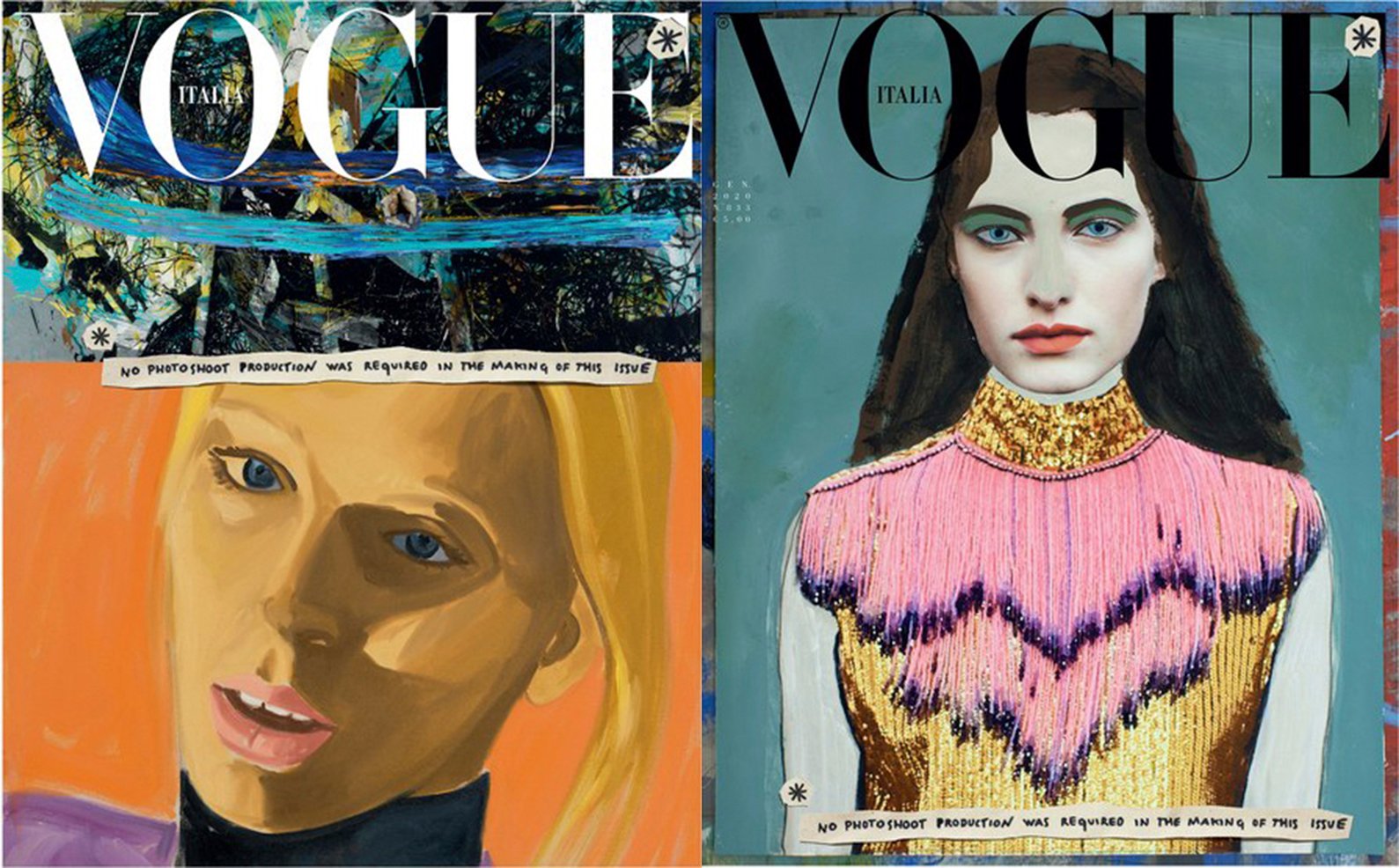 Vogue Italia Jan 2020

Interestingly, the dominance of photography as the default language of fashion has meant that the mere use of artists allows Vogue to tap into a new cultural territory. (It also doesn't hurt to step away from the evidently toxic power dynamics of photo shoots, where #MeToo has exposed numerous incidents of sexual misconduct.) The variety of artists and styles selected - David Salle, Vanessa Beecroft, Cassi Namoda, Milo Manara, Delphine Desane, Paolo Ventura and Yoshitaka Amano - also helps to tie in other worlds and associations. Vanessa Beecroft frequently collaborates with Kanye West, Milo Manara brings with him a long history with comic books (with a touch of kink), Yoshitaka Amano is known for his contribution to video games, Paolo Ventura has close links to theatre and opera.
It will be interesting to see how Vogue's other regional editors choose to give life to the Vogue Values and what exciting new cultures will be given a platform to flourish as a result. As a leader of fashion culture, Vogue might have even set in motion a trend of luxury brands and publishers off-setting their own environmental footprints through creative avenues.