All eyes were on London last week as the capital unveiled a series of bold and innovative styles at Fashion Week. From feminine Grunge to dressed-up T-shirts, the week-long event showcased a range of styles destined to be big this year.
In the wake of this update, we looked into 2 Codec fashion communities to see how they're interpreting the new season.
Fashion Purists
A core fashion community - with interests in names like Alexander McQueen, Stella McCartney and Vivienne Westwood - Fashion Purists are engaging with the ideals and passions of British icons. In this community, we can see high engagement with imagery from the Vivienne Westwood memorial, as well as Daniel Lee's first Burberry show.
Fashion Features & Editorial is now their top interest, with Heritage Designer Brands coming a close second. We see a rising interest in Vestiaire Collective, Vinted and eBay, with all sites now highly trending, indicating a renewed interest in past trends and iconic pieces. Cindy Crawford, Thierry Mugler and Naomi Cambel - iconic names from Thatcher's 1980s - are in their top 10 influencers.
Since the shows, we can also see a rise in interest in Punk Music (+18%) and Indie Music (+16%) suggesting the Punk, Grunge aesthetics seen at Burberry have resonated with our core, most influential fashion audiences.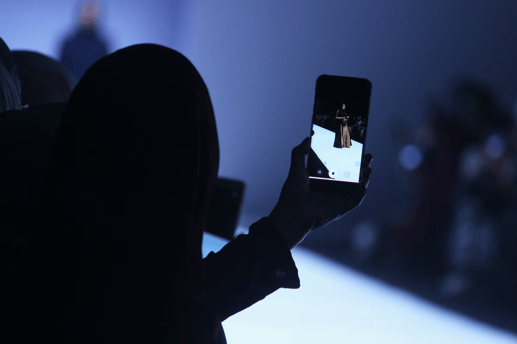 Daniel Lee's warming hot water bottles, hot toddies and remixed, diversified takes on Burberry's heritage 'British' staples set a tone of subversion and challenge to the 'state of the nation'.
The Fashion Purists had this attitude firmly in mind following the memorial service of Dame Vivienne Westwood, and their rising interest in Wealth Distribution (+12%) and Gender Neutral Fashion (+15%) point to this community moving away from the notion of high fashion as an exclusive club, and instead towards its power to affect change, and it's voice as a commentator on social affairs.
Next Gen Fashion Lovers
Future focussed and digitally native, Next Gen Fashion Lovers typically focus on the rising stars of the fashion industry who are subverting the industry norms, with interest in designers like Harris Reed. This theme continues in the wake of LFW, as we see this community engaging in images from Simone Rocha's show.
Unlike the Fashion Purists - there is no element of nostalgia or yearning for the past. They are razor focused on the now and looking to the future.
Ancuta Sarca and FKA Twigs both appear in their top 10 Instagram influencers and - of the more established fashion names from this year's shows - it is Moncler's boundary-breaking Genius show that appears to have resonated the most. The brand has entered their top influencers for the first time.
This community ranks highly for interest in progressive topics - such as LGBTQ+ Rights and Sustainability - and also has a high interest in technologies shaping the future such as NFTs and VR.
We can see the impact of the attitude of this community beginning to play out in British Fashion. Next-gen designers are acutely aware of the impact of fashion on the environment, so focus on creating bespoke one-of-a-kind pieces for celebrities to wear (and be photographed in) on the runway, rather than releasing collections each season.
There is also an element of performatism for social media, with this community playing up to viral trends with a knowing wink and a nod (several attendees of the Ancuta Sarca show were wearing THOSE red MSCHF boots). They're engaging with the fashion industry, but only on their terms.
Key Takeaways
These two communities offer very different perspectives on the future.
Fashion Purists are using clothing to display their pessimism for the future, and possible displeasure at the current state of play. They're exploring past trends in an attempt to reconnect with the attitudes that have historically brought about change.
Next Gen Fashion Lovers appear much more optimistic about the future, and see clothing as a way to express and communicate their core values, paving the way for a much more liberal and inclusive fashion world for generations to come.
At Codec, we work with ambitious brands globally, helping them supercharge their growth through the power of communities.
Want to tap into your undiscovered communities and unlock your brand potential? Get in touch info@codec.ai