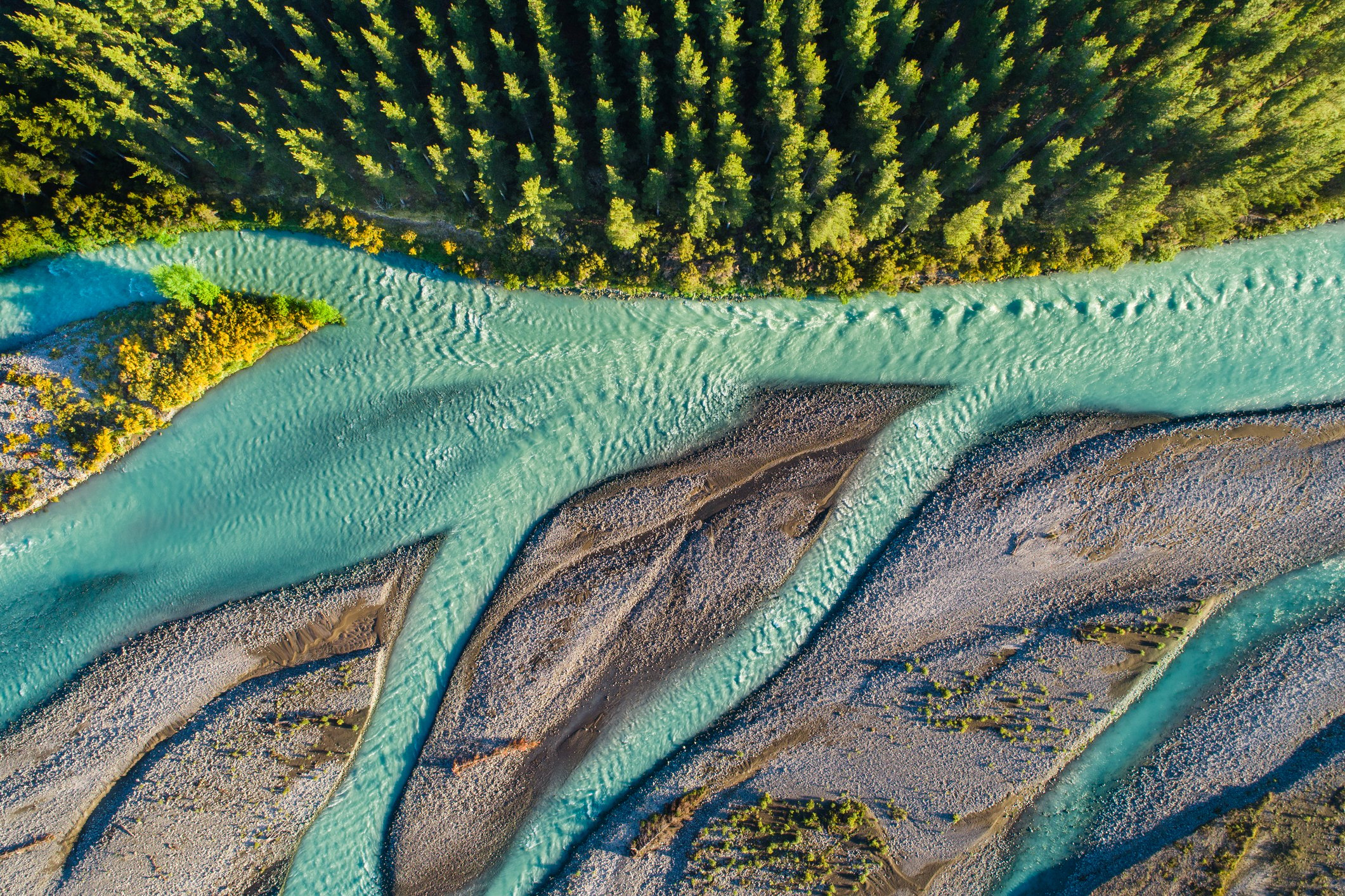 At Codec we fundamentally believe in order to be successful and grow, brands need to be relevant in culture and not stuck in a boardroom vacuum. To achieve this, we believe brands need to go beyond demographic audience segmentation. Understanding tribes, and the inter-related and inter-connected networks that exist within your existing and target audiences, opens up huge opportunities for creating meaningful connections with them.
With this in mind we recently embarked on an ambitious project to analyse and map environmental culture in the US. The relevance and importance of environmental issues goes without saying, but there's a lot going on under the surface. The main reason for this project was to elevate some of these subsurface goings-on to help brands contribute in a meaningful way. The lesser reason was curiosity; surely environmental involvement has been shifted by the churning forces of democratisation, digital platforms, and culture. But in what way?
As it turns out, there are two answers to that question.
This environmental analysis is based on discovering tribes; cultural networks with shared values, connections, and leaders. We conducted regional analyses to discover tribes across five regions in the US and compared the tribes with each other based on their content interactions. There were a few tribes that existed in some form across all five regions. One of these nationally-represented tribes was highly aligned with more established, legacy environmental organisations (ex. Greenpeace, Sierra Club, etc). On the other end of the spectrum was a set of tribes defined by more recent cultural and political forces (ex. Extinction Rebellion). As our analysis progressed, these two sets of tribes found themselves on opposite sides of a division within the overall environmental map.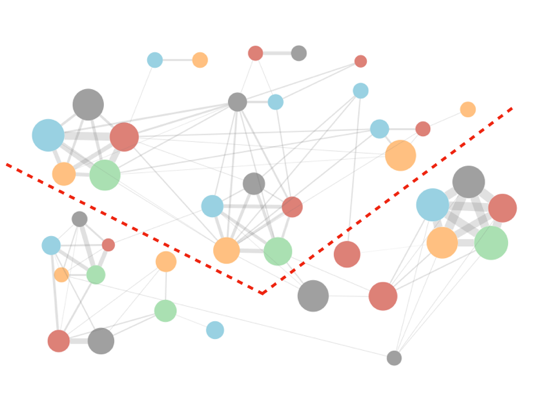 Each one of those dots represents an identified tribe. The colours represent different regions of the US (red = Northeast, green = Southeast, black = Midwest, yellow = Southwest, blue = West). Each grey connecting line represents a proportion of content engagements in common between two connected tribes with thicker lines meaning more content engagements in common. The red dashed line represents the environmental divide.
The 'Legacy Environmentalists' tribe cluster resides above the red dashed line in the middle of the map. Behaviourally, these tribes focus on where environmental harm is taking place: our nature reserves, rivers, forests, wetlands, parks, etc. It is no surprise, then, that Legacy Environmentalists are far more connected to other groups of tribes involved with specific aspects of the environment: wildlife protection, camping / hiking, water conservation, resource protection, even sustainable gardening. All of these connections take place above the environmental divide.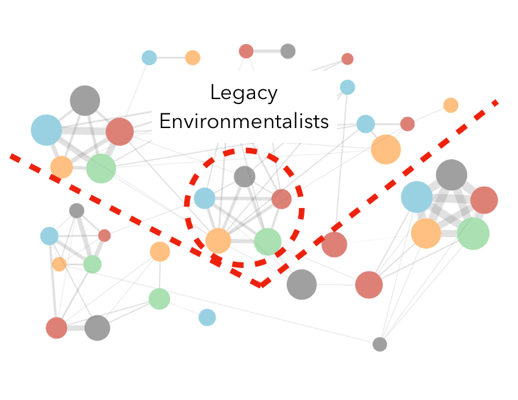 Below the divide is a different story. Tribes here include the 'newer' environmentalist forces, the pockets of radical discontent. For them, environmental issues are symptoms of a wider, systemic failure of our current economic and political system. The source of environmental harm is more abstract, more cultural. Consequently, the tribes on this side engage more with various aspects of culture: humour & parody, celebrity activism, current events, and race relations. Without the focus on specific aspects of the environment, these tribes are not as well connected to each other. This structure is indicative of many recent cultural movements; powerful but decentralised.
One group of tribes have managed to bridge this gap and link both sides of the environmental divide. These tribes are all about collective action – using political and cultural forces to affect change at a grassroots level.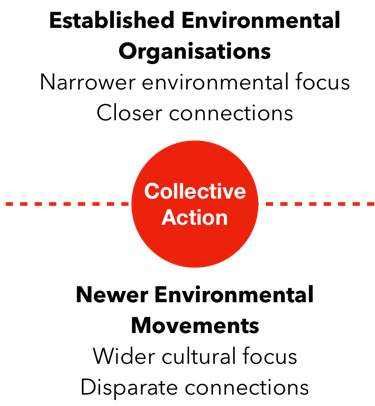 The environmental divide provides an interesting framework for approaching environmental issues. Supporting tribes above the divide is probably a more straightforward task but offers fewer opportunities for growth. The newer movements arising from the digital age offer up far more diverse cultural opportunities, but brands may be hesitant to toe the political line.
Fundamentally understanding these tribes however is essential to any brand wanting to enter one of the most important issues in our time. Brands should not refrain from asking difficult questions internally but also of their intended audience. Brands, when armed with the correct information, can become truly valuable contributors to any wider cultural conversation.
To find out more about cultural tribes, read our report.
For a deeper exploration of the map and to find out how you could incorporate its insights for your brand, get in touch.