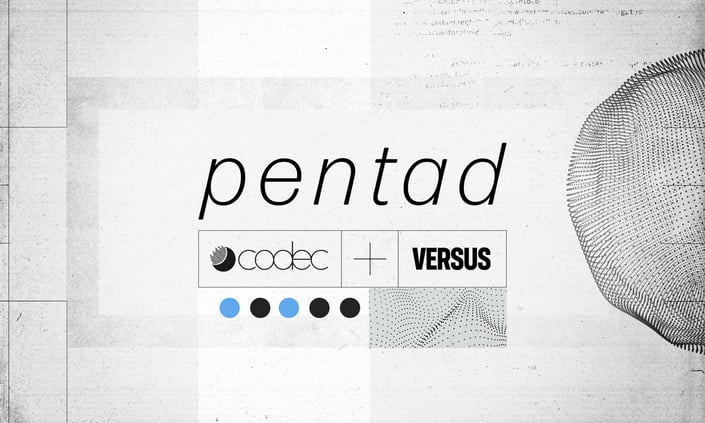 Pentad Launches with its First Acquisitions of Codec.ai and Versus, Fusing Community Intelligence with Creative and Production, Solidifying Pentad as a Powerful New Global Player in the Creative Industry
Pentad's mission to drive brand growth by bridging AI-Powered community data to culture-defining creative and production is an industry game changer
(NEW YORK, NY) June 28, 2023 - Built by leaders in AI, strategy, creative and production, Pentad, the world's first AI-Powered Community and Cultural Operating System, announced today the completion of its acquisition of Codec.ai, whose proprietary AI platform will join Versus, an Emmy-winning creative and production studio, to develop a first-of-its-kind offering.
The newly formed company has created a one-of-a-kind approach that helps brands and agencies form, discover and engage with communities in real-time, giving a cultural edge to grow market share by unlocking new audiences and creating compelling and authentic content.
"Pentad is committed to leveraging the powerful combination of proprietary IP and software in Codec.ai to unlock substantial growth opportunities globally. With a determined roadmap, Pentad will enhance and expand the capabilities of this technology," said Alasdair Lloyd-Jones, Chief Executive Officer. "We are revolutionizing the process of harnessing and developing creative insights, paving the way for a new paradigm in how brands and agencies nourish relationships with communities through highly targeted and relevant content."
Codec, an award-winning AI company, specializes in providing brands and agencies with actionable insights to help them connect to consumers in real-time. The company has worked with leading brands like Adidas, AB InBev, Unilever, Mars Wrigley, and Diageo, to power activities like brand and creative strategies, Metaverse entry strategies, and new product development. The company has been recognized as the 'Best Artificial Intelligence Product in Marketing' (CogX) and as one of the 'Hottest Artificial Intelligence Startups in Europe' (TechCrunch).
With eight years of machine learning and proprietary intellectual property, Codec's models are trained to understand content and culture at scale. Codec has built a comprehensive global map of popular culture, encompassing over 35 markets worldwide, including China, to help companies grow market share and engage with audiences. With the ability to analyze approximately one billion pieces of content and user interactions every day, Codec moves brands away from reliance on a demographic understanding of audiences, generating valuable insights from the interests and passions of thousands of communities on a daily basis.
Versus, a New York-based creative and production studio, has artfully crafted, one-of-a-kind campaigns and content for industry leading brands like Audible, Disney, Meta, PepsiCo, CBS, and the NFL. The global team is led by industry game-changers who develop creative solutions for clients using efficient and forward-thinking production solutions. They've received a number of awards for their work including multiple Cannes Lions, an Emmy, Clios, and more.
Codec and Versus will be the first in a string of mergers and acquisitions by Pentad. The leadership appointments and board of directors for Pentad will be announced in the coming weeks.
About Pentad
Pentad is an always-on operating system that generates creative solutions through custom community insight. It builds groups to elicit behavioral data that informs the way brands and agencies strategize, create, and distribute content. Pentad was formed through the acquisition of Codec, an AI company that specializes in cultural intelligence, combined with Versus, an Emmy-winning creative and production studio with multiple Cannes Lions to its name. Pentad's founding members are Martin Adams, Justin Barnes, and Alasdair Lloyd-Jones, who have extensive experience in AI, strategy, creativity, production, and business development. Pentad is headquartered in New York, with offices in London and Mexico City. For more information, visit thepentad.com.