As a species, our relationship with alcohol has - naturally - shifted over time. From the 18th century gin craze to alcopops in the 90s; for many of us, alcohol has played a significant role in our lives.
In more recent years, this shift hasn't only been around what, where, or how we're drinking, but also if we are drinking. In an increasingly unstable world, mindful living is on the rise, with many of us scrutinising our relationship with alcohol and drinking culture.
Now, after a month that saw many of us taking on dry January (or the slightly more achievable damp January), we looked to three categories of Codec-tracked communities -Lux, Hedonistic and Mindful - to see how and if the recession is impacting their previous drinking habits.
Lux communities
Traditionally lux communities on the platform - influenced by brands like Balenciaga, Rolex, Telfar and Bvlgari - are signalling a clear shift in drinking habits. As these communities are typically trendsetters for their peer groups, they can tell us a lot about what can come next.
We can see rising interest in topics such as subscription alcohol services (19%), cocktail making (9%), and cooking on a budget (22%). Interest in topics such as subscription food & takeaways continues to be high having gained traction during the pandemic, and interest in typically high-scoring topics such as fine dining are starting to trend downwards (-8%), suggesting that they are moving their drinking inside the home and taking a more budget-friendly approach to socialising.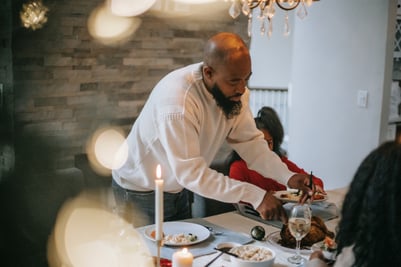 While these communities are happy to ditch the expensive dinners, we know that they typically have 'lux' spending habits. They may be choosing to socialise indoors, but it is unlikely that they will make solely value-driven purchases when shopping.
With their reputation as tastemakers to uphold, purchase decisions and their influence will continue to be thought about carefully.
Hedonistic communities
More hedonistic communities - who spend their free time socialising at music festivals and parties - appear to be relatively unchanged in their attitude to drinking alcohol, with drinking-related interests remaining steady. Interests in topics such as music festivals and rave culture remain high, and interest in ticket sale platforms has increased by a huge 60%. These communities are music and nightlife-motivated, and typically prioritise socialising highly in terms of where they spend money.
This lines up with behaviours seen in 2022. Festivals were back in full swing, with thousands of people heading to music events all over the globe. Google searches for 'UK festivals' were the highest they've been in 5 years, and earlier this month, Glastonbury tickets sold out within minutes. Hard seltzers were the festival drink of the summer, with sales of White Claw up by 85% With the trends we're seeing on our platform - their popularity looks set to continue.
Alcohol and going out are still seemingly in the mix for these communities. After 2 years of lockdowns, there is a lot of pent-up energy and a desire to get out and live life. Indulging in 'little luxuries' is common during periods of recession (lipstick sales soared in 2001, as did luxury lingerie in 2008). For some, an RTD can of seltzer on a night out could fall into this bracket.
Mindful communities
For mindful drinking communities, we can see high and rising interest in topics related to mental and physical health and wellness. Interest in alcohol/drinking remains low. This implies that their health-conscious habits are values that will stay with them regardless of what life may throw at them, challenging the stereotype that "when the going gets tough - the tough go drinking".
For these communities, interests in getting out and about - at film or music festivals and food markets - are rising, suggesting that they too feel the same desire to be out socialising as hedonistic communities. While alcohol may not be on the menu, enjoying alcohol-free options will likely remain a feature of their social life.
This being said, key influencers for this group include budget supermarket Aldi, and author of Cooking on a Bootstrap, Jack Monroe. This implies some level of budgeting requirement, which may have them reaching for cheaper AF options such as a soda and lime, as opposed to a more expensive AF liqueur or premixed mocktail.
Key takeaway
Previous spending behaviours are not defining how people are reacting to this period of economic uncertainty. While for some communities we are seeing changes in attitudes to drinking, others are implementing a 'live for the day' mentality. For Codec communities, it is the higher earners who appear to have the most marked shift in their relationship with booze.