The construct of gender is an enormous topic, broken down across numerous subtopics tracked across the Codec platform.
We looked into this through the lens of fashion to uncover the key areas of interest.
With forward-thinking new generations, and the rise of social media democratising how and who we get our information from, people are beginning to challenge the male/female binary that impacts all aspects of our identity.
Empowerment through formalwear
When looking at core fashion communities, we can see a sustained uptick in 2022 in interest related to gowns and haute couture (+13% from 2021), as well as increased interest in fashion week and fashion-related topics as a whole (+9% from 2021).
It seems that no boundaries, non-binary looks have driven interest in the category as a whole, as the red carpet moves away from traditional formalwear thanks to high-profile figureheads leading the way.
Designers like Harris Reed and celebrities like Billy Porter are changing the way we dress on carpets and catwalks, shaking off the notion that fashion is for women and tailoring is for men and instead focusing on presenting themselves in a way that feels authentic.
Think Billy Porter being carried into the Oscars by 6 shirtless men wearing a dramatic gown, and Harry Styles blowing up balloons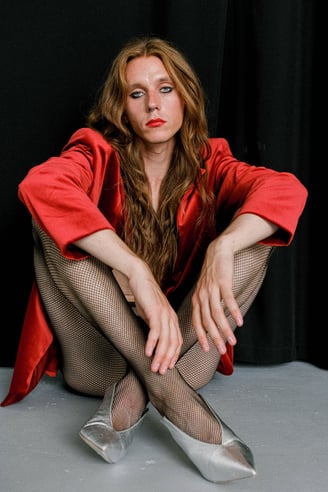 in a sherbert-toned Gucci dress
on the cover of Vogue. This subversion of norms is reinvigorating interest in fashion for many, while also playing an important part in dismantling the gender binary.
We can now see evidence of this influence trickling into the mainstream. When looking at communities highly invested in high-street fashion, we can see an increase in engagement with non-binary influencers such as Sam Smith and Olly Alexander.
Functionality as a statement
Spearheaded by celebrities like Bella Hadid (who reportedly ditched her stylist earlier this year) - this subtrend of gender-fluid dressing is all about functionality. Baggy silhouettes, 'dad' trainers, athleisure and cargo pants - it takes the new subverted rules from the red carpet and makes them wearable day to day.
On the Codec platform, we can see increasing interest in Feminism and Gender Equality across our fashion communities (+40% from 2021). People searching for 'Smart Casual' business wear is also on the rise by 10%, and images showing people dressed down, wearing puffer jackets, leggings and minimal makeup, are ranking highly for engagement.
The drivers behind this trend are twofold; post-pandemic, having fun with fashion and throwing out the rulebook came naturally to some. With no desire to go back to restrictive office clothes, mixing athleisure with heritage brands, clashing patterns and experimenting with silhouettes came to the fore.
And, by ignoring the traditional gender norms of fashion and gravitating to gender-neutral designs/designers, this trend allows wearers to vote with their feet (or wallets) in the gender debate currently happening in the western world.
Those gowns worn by men on the red carpet don't come without a large amount of backlash from some members of the public. While purveyors of this trend may not describe themselves as non-binary, dressing this way allows them to visibly state what side of the argument they're on.
Sustainability and clothes
Gender-fluid fashion makes perfect sense when viewed through the lens of sustainability. In theory, every textile of non-gendered clothing made has twice the amount of potential wearers than something made specifically for a 'male' or 'female' in mind.
Within the Codec fashion universe, sustainability has been rising as a priority cultural interest across the board (+20% since 2021). Sustainable fashion now tops the leaderboard for eco-conscious fashion communities, and we can see an uptick in interest in sustainability even amongst communities that traditionally wouldn't engage with activist topics. For many communities, sustainable fashion is now in their top 10 interests.
Sustainable, genderless fashion is beginning to make its way into the world thanks to small brands like Salt, Official Rebrand and Ijji. The necessity for sustainable fashion to be slow means that we are yet to see the fashion world fully embracing the notion (possibly out of necessity for the industry - BoF reports that limiting global warming will require the richest shoppers in wealthy countries like the UK, US and Japan to buy an average of just five new garments per year by 2030). But, there is rising pressure from more vocal communities and a clear need for the fashion industry to adapt.
With the fashion world embracing gender-fluid fashion, we can see clear signals that the industry is willing to bend and shift in line with public consciousness. With COP27 still fresh in mind, and a clear desire from the public to move toward sustainable, slow fashion - we wouldn't be surprised if this changes soon.
Codec is a cultural intelligence platform. Powered by award-winning AI, we work with the most ambitious brands globally to supercharge growth through the power of communities.
---